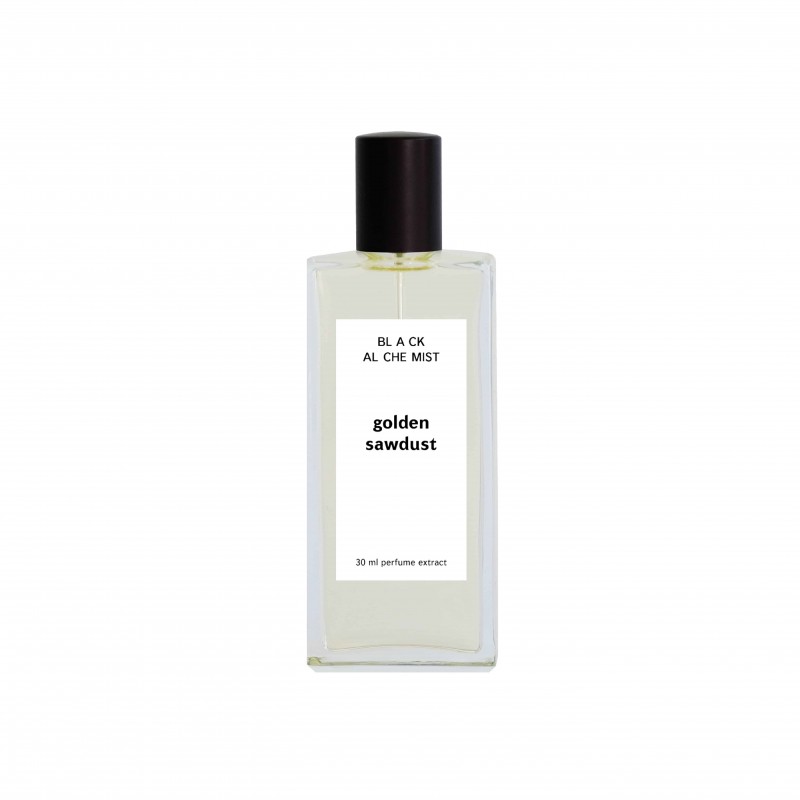  
BLACK ALCHEMIST / GOLDEN SAWDUST perfume extract
BLACK ALCHEMIST / GOLDEN SAWDUST, perfume extract 30 ml
NOTES: cedarwood, amber, incense, benzoin, labdanum, oud, immortelle, piment
BLACK ALCHEMIST / GOLDEN SAWDUST, perfume extract 30 ml (2019)
"GOLDEN SAWDUST" (2019). It reminds us of a sawmill in the mountains when you open a heavy wooden door and drown in the smell of freshly cut wood.
BLACK ALCHEMIST capsule collection
This artistic capsule collection was launched at the end of 2019. All three fragrances were presented primarily not as practical products of perfumery but as olfactory objects. Rich woody and ambery nuances in each fragrance draw a different aromatic story and all together they form a certain perfume triptych. You can have and wear them separately, but they also seem to complement each other and can be a continuation of each other. The Nose of this capsule collection Aistis Mickevičius wanted to show how the same perfumery essences create such a different and nuanced impression. It's like the black magic of an alchemist. At the end of 2020 collection was supplemented with two new fragrances.
Other products in the same category
Delivery

We ship to EU countries, UK

Norway, Switzerland, Canada and the USA.

Support

Don't hesitate to ask

any questions

Payment

Flexible

payment methods